Dr. Andrew Senchak, DO
Otolaryngologist
Dr. Senchak is a board-certified physician in Otolaryngology, Head and Neck Surgery (Ear, Nose, and Throat) and is owner of Texas Ear and Vestibular Institute (TEVI) in McKinney, TX. He has a special clinical interest in ear disorders with a particular emphasis in treatment of dizziness, imbalance, and hearing loss. He completed internship in General Surgery and Otolaryngology residency at Tripler Army Medical Center, Hawaii in 2008. He most recently completed a fellowship in Vestibular Disorders at Massachusetts Eye and Ear Infirmary, Harvard University, in 2018. His educational background also includes fellowship training in Clinical Investigation from the San Antonio Uniformed Services Health Education Consortium and a master's degree in Clinical Investigation at the University of Texas Health Science Center at San Antonio.
Dr. Senchak served 8 years as a US Army physician and was stationed in Louisiana, Texas, and Maryland, receiving an honorable discharge as a Lieutenant Colonel. While in the Army, he served as Deputy Chief of Research at the Walter Reed National Military Medical Center. He has worked in conjunction with the Hearing Center of Excellence to perform epidemiological research on noise induced hearing loss patterns in the military and has written several publications. His medical practice, TEVI, opened in October 2019 and is dedicated to helping people who suffer from vertigo, imbalance, dizziness, hearing loss, tinnitus, and other ear symptoms. TEVI features a comprehensive vestibular and audiology laboratory capable of specialized testing of the inner ear. Since opening, the practice has performed over 500 specialized vestibular and electrophysiologic laboratory examinations. Dr. Senchak is originally from the Pittsburgh area, but came back to settle in Texas after his time in the military. He feels privileged to be a Texas physician, and to be able to serve the McKinney and North Dallas area.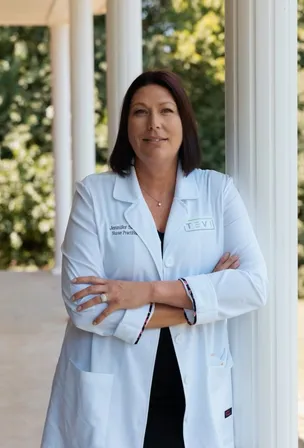 Jennifer Slencak, APRN, FNP-C
Nurse Practitioner
Jennifer is a board-certified Family Nurse Practitioner with 25 years of healthcare experience. She earned her undergraduate registered nursing diploma from St. Vincent Health Center School of Nursing in Erie, PA. She later attended Chamberlain University in Addison, IL to earn both a Bachelor's (BSN) in Nursing and Master of Science (MSN) in Nursing where she graduated with high distinction.
She is a member of the American Academy of Nurse Practitioners (AANP), North Texas Nurse Practitioner Association, American Academy of Otolaryngology (AAO), and the American Academy of Anti-Aging Medicine (A4M).
Jennifer's approach to patient care combines clinical practice experience with the ability to communicate and relate to patients and their families to provide the best care possible. Her primary goal is to enhance the quality of life for those seeking relief from ear disorders, hearing loss, dizziness, allergies, and thyroid disease.
When she is not caring for patients, Jennifer likes to hike the great outdoors and travel to new places with her husband. She is Gigi (which is cooler than a Grandma) to 3 grandsons and enjoys spending time with them and seeing the world through their eyes!
Joshua Caldwell, Au.D.
Audiologist
Dr. Caldwell obtained his Bachelor of Science in Biology from Baylor University and his Doctor of Audiology degree from the University of North Texas. Additionally, he is obtaining a Doctor of Philosophy degree in Health Services Research with a focus on tinnitus research from the University of North Texas and is licensed by the state of Texas.
Dr. Caldwell has a particular interest in tinnitus and is conducting research that is evaluating brain waves of individuals with tinnitus in an attempt to develop a test for tinnitus and identify potential areas that can be targeted for treatment. He specializes in tinnitus assessment and diagnostic hearing and balance evaluations and strives to improve his patients' quality of life through the diagnosis and treatment of hearing as well as balance related disorders. Dr. Caldwell is skilled in the treatment of hearing loss and endeavors to create treatment options that best address his patients' hearing needs.
Outside of work, Dr. Caldwell enjoys kayaking, fishing, and spending time with his wife and new baby son.
Ann McRae, Au.D.
Audiologist
A Southern Lousiana native, Dr. Annie McRae moved to Texas to attend The Universtiy of Texas at Dallas for her doctorate in Audology. She has held a Texas license to practice Audiology since 2012. She currently serves on the Board of Directors of the Texas Academy of Audiology as the Secretary/Treasurer and is a Fellow of the American Academy of Audiology.
Dr. McRae has taught Communication Disorders and Audiology classes at both the graduate and undergraduate levels. She has conducted academic research studies on speech understanding in noise and aural rehabilitation in teenagers and adults. Over the past decade, Dr. McRae has enjoyed providing hearing and balance services in ENT, private practice, and educational audiology settings. She takes a special interest in amplification and auditory rehabilitation.
When not working, Dr. McRae spends time at home with her husband, Nick, and their two blue tongue skink lizards – Moses and Gizmo. She also enjoys crocheting and finding good bargains while shopping.